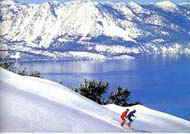 A GREAT Place to Stay Any Season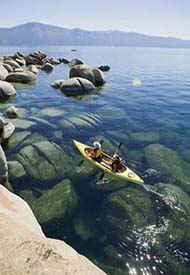 | | |
| --- | --- |
| | |
| | Welcome to Lake Tahoe! Use the links below to learn about Tahoe ski resorts, casinos, discounted lift tickets, accommodations, and lots of fun things to do at Lake Tahoe. |
| | |
| --- | --- |
| | |
| | LAKE TAHOE SKIING AND BOARDING |
From this page, link to our Tahoe Ski Map and/or trail maps for the following resorts: Heavenly Valley, Squaw Valley, Kirkwood, Sierra Tahoe, Alpine Meadows, Mt. Rose, Diamond Peak, and Northstar-at-Tahoe. Our condominium clients receive our unique SKIERS' GUIDE giving a further description of skiing at selected Lake Tahoe resorts. Although information can change quickly, we include daily lift ticket prices and tell you where to get discounts on these. Our guide includes safety precautions, road directions, and travel advice as well. We recommend nine of the twenty Tahoe ski resorts: the guide recommends which resorts to ski and when, where to find zero lineups, and what to avoid.

For those of you that recognize the superb value offered by spring skiing, note that the Lake Tahoe ski season extends into June and sometimes into July.

From early April on, spring skiers, golfers and summer enthusiasts get six to

twelve weeks of great vacation rental rates, zero lift lines, and bikini weather.

Skiing or snowboarding, expert or beginner Lake Tahoe is the perfect place for your winter holiday.
Here Accommodation Tahoe guests ski an area resort and enjoy the view of Lake Tahoe in the background framed by the snow covered mountains.

Lake Tahoe skiing is famous for its long down hill runs and its scenic vistas, but every day at Lake Tahoe is a new adventure. There are so many great ski resorts and so many breath taking view to take in you'll keep coming back year after year - just like we do.

One of the things that we enjoy about skiing at Tahoe is the absence of crowds. The typical Tahoe ski lineup is less than one minute long. Lineups sometimes appear, but only at certain times and on certain lifts. Our guide tells you how to anticipate and avoid these lineups. For our condo clients who plan to ski, we include trail maps of the ski resorts that we recommend.
LAKE TAHOE SKI RESORTS MAP

This map shows the locations of Tahoe's major ski resorts and roads relative to Reno, California (CA), Nevada (NV), and the lake. Our Lake Village condos are a short shuttle ride to Heavenly's new gondola base. Lake Village is Tahoe's best location for skiers - it's in the center of the major ski resorts and very close to dining and the casino night life.

Presented by Accommodation Tahoe at Lake Village

Link to these ski trail maps with comments and recommendations on each resort:

Northstar trail map with an aerial photo,
Squaw Valley trail map with two aerial photos,
Alpine Meadows trail map,
Mt. Rose trail map,
Diamond Peak trail map,
Homewood Mountain trail map,
Heavenly Valley trail map (largest US ski resort) showing the Lake Village location,
Sierra Tahoe trail map, and
Kirkwood trail map

An Accommodation Tahoe guest enjoys a downhill run at Homewood Mountain Resort on a sunny day in January. This is what makes Lake Tahoe skiing famous.